Rewards of Policing
Becoming a police officer gives you the power to make your difference in the community. You'll help reduce crime and provide a reassuring presence, making life safer and happier for the people you serve.
When you join the police, you'll develop both personally and professionally. Through the training you receive, you'll end up with skills for life that will serve you well as your career progresses.
Benefits of being a police officer
Beth loves the fact that every single day is different:
View the full video transcript
Female officer looking away from the camera in the gym.
Female and male officer with fitness instructor. Female officer in gym talks to camera.
00:03: - 00:11     On a day to day basis I come in on shift and we brief with all the team and talk about priorities, things going on in the area, anything that needs to be targeted.
Female and Male officer in gym, both officers doing bleep test.
00:12: - 00:18     I also get jobs allocated to me to investigate crime wise, and then respond to the 999 logs and the 101 logs that come in.
Both officers doing bleep test, various shots of officers in the gym doing the bleep test.
00:21: - 00:31     It's the best job that I've ever had in my life. Every single day is different, you really don't know what you're going to get on a day to day basis, and I like the challenging element of it but also the kind of diverse part of it too.
Police: Make Your Difference logo
And alongside the variety each day brings, there's a comprehensive range of benefits:
Competitive salary - from the outset, you earn while you learn. The basic starting salary for officers is between £23,556 and £26,682 depending on qualifications and experience. Police officers who have not reached the top of their pay scale receive annual incremental pay of at least 2%, and often 4-6%, depending on rank and experience, subject to satisfactory performance. A constable will typically reach the top of their pay scale in within 7 years and will receive a salary of £43,032.
A generous

defined benefit

pension, including the option to retire at 60.
Heavily discounted private healthcare via the Police Mutual discretionary healthcare scheme.
Annual leave - ranging from 22 days (in addition to public holidays) when you're starting out to 30 days for long-serving staff.
Generous maternity and paternity leave.
A wide range of discounts offered by retailers, restaurants and other businesses to police workers. Here's just one example.
Introducing The Police Covenant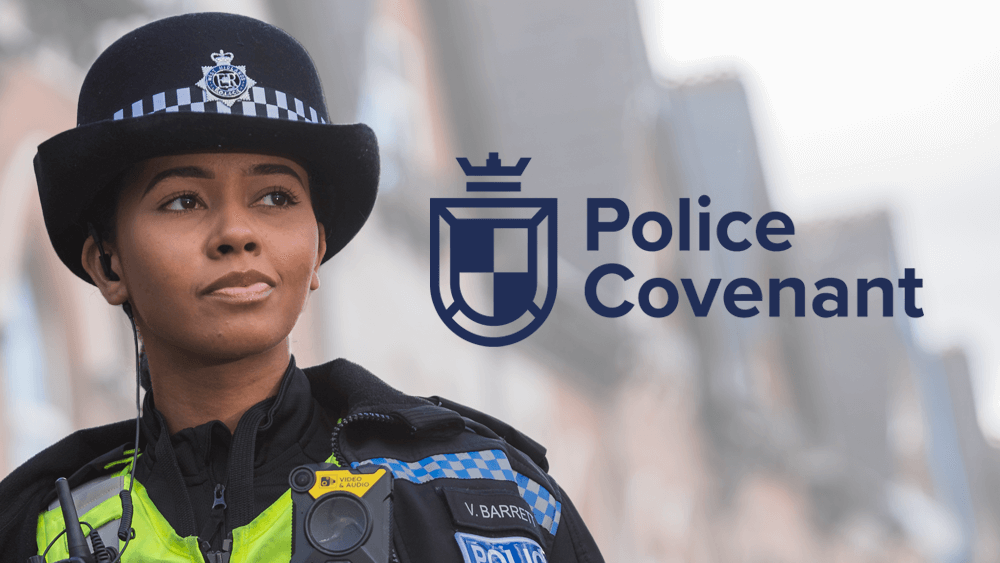 The Police Covenant is a pledge to acknowledge the sacrifices made by those who work or have previously worked in our police forces. The aim is to do more as a nation to help those who serve this country and recognise the bravery, commitment, and sacrifices of officers. The hope is that the Covenant will ensure that members or former members of the police workforce are not disadvantaged as a result of working in policing.
Find out more about The Police Covenant and the steps being made to support the wider policing community and their families. 
Representing the communities you serve
When you join the police, you can make a real difference through understanding the needs of your community. That's why we welcome applications from people of all backgrounds, cultures and experiences.
Who can join?
There are various ways to join as a police officer, depending on your work, life and educational experience.
WAYS IN TO POLICING